"A New Vision for Europe" Conference
Universidade NOVA - Ed. da Reitoria, Lisboa, Campolide.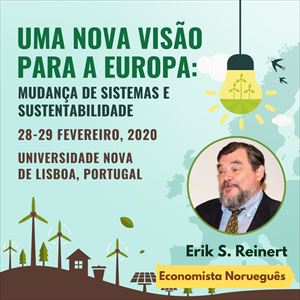 A New Vision for Europe: Systems Change and Sustainability
The European Union's experiment in market economics and political bureaucracy is causing an increasing number of economic, social and environmental challenges.
So, what are the solutions? How can we create a better economic and environmental deal for Europe? How can we facilitate markets so that both people and the environment can thrive? How can we create resilient societies that can reduce both waste and economic inequality? How can we combat climate change while also increasing the living standard of the poor?
At this conference, some of today's most visionary thinkers and activists will share their thoughts on how we can—from the local to the global—solve some of these challenges and create a more sustainable and equitable society.
Speakers Include

Erik S. Reinert
Economist, author How Rich Countries Got Rich and How Poor Countries Stay Poor
Helena Nordberg-Hodge
Writer, organizer of the Economics of Happiness conferences
James Quilligan
Managing Director, Economic Democracy Advocates
Roar Bjonnes
Author, Growing a New Economy
Raquel Varela
Labour historian and researcher
Paulo de Morais
Co-founder of the portuguese chapter of the NGO Transparency International
Álvaro Fonseca
Degrowth Network Coordinator
and more….
More information at https://future-planet.net/europe/future-europe-conference/
More information about "A New Vision for Europe" Conference tickets