Geoff Lakeman 7 Rob Murch
Kingskerswell Parish Church, Newton Abbot.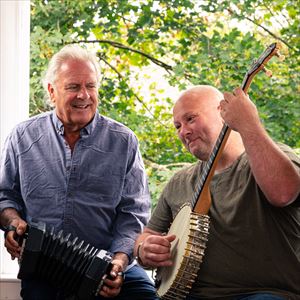 More information about Geoff Lakeman 7 Rob Murch tickets
The "Titan of Twang" and the "Concertina Crooner" team up in a dynamic new folk/acoustic duo .
GEOFF LAKEMAN,patriarch of a folk dynasty - as dad of Seth,Sean and Sam and father-in-law of Cara Dillon and Kathryn Roberts - teases English and Irish folk, Americana and jazz songs out of his vintage duet concertina.
ROB MURCH brings the wow factor to the banjo, with his unique,punchy fingerstyle playing.
Both live on Dartmoor, so it was inevitable they'd gang-up musically. Expect self-written and West Country songs, rattling folk tunes and foot-stomping ragtime and cakewalk riffs.
Rob's percussive finger-ballet up and down the fret board of his 100 year-old instrument is mesmerising.He's revered throughout the UK for his long-time work with the renowned Dartmoor Pixie Band and The Watch trio.