Limehouse Lizzy + Women In Rock
Picturedrome, Holmfirth.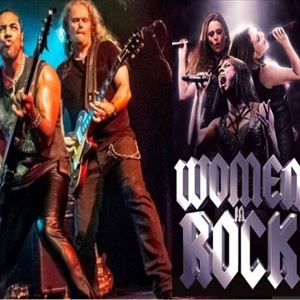 More information about Limehouse Lizzy + Women In Rock tickets
Limehouse Lizzy continue to keep the spirit of Celtic rock icon Philip Lynott and his band Thin Lizzy alive, well and dominating stages worldwide.
From their Official PRS award, performing for Virgin Atlantic in Barbados, T.V. appearances (BBC 2's 'Arena' amongst others), and to actually being recruited to record and tour by members of the original Thin Lizzy, Limehouse Lizzy have just completed their 25th year with their most explosive show and critically-acclaimed line-up yet.
'…Limehouse Lizzy Top PRS for Music's Hardest Working UK Bands List'
Billboard Magazine
"Limehouse Lizzy's Wayne Ellis, an uncanny ringer for Phil Lynott…"
The Guardian
"entertainment for more than a decade…fantastic live music"
Arena BBC2
"if you're sceptical about tribute acts, you won't be after seeing Limehouse Lizzy"
Radio Times
"Gig of the week" The Mirror
Women In Rock
The UK's only live show dedicated to the World's greatest Female Rock Legends. With three of the most powerful female singers on the live music scene to draw upon, together with an awesome touring band, Women In Rock delivers a showstopping performance covering all the greats through the decades.
Women in Rock pays tribute to: Pat Benatar, Stevie Nicks, Joan Jet, Heart, Vixen, Cher, Bonnie Tyler, Kiki Dee, Janice Joplin, Alanis Morrissette, Patti Smith, Halestorm and many more.
The raw talent on show from the three Women in Rock singers is breathtaking. Collectively they have a huge wealth of talent and experience, performing in The USA, Australia, Asia and China, with artistes including Alicia Keys, Rihanna, Toyah Wilcox, Vampires Rock and The National Orchestra of Great Britain to name but a few.
Not just a tribute, but a celebration of all Women who simply Rock!
"Women In Rock are arguably one of the finest bands we have ever put on"
Hard Rock Cafe