Motley Crue + Skid Row tributes
Waterfront, Norwich.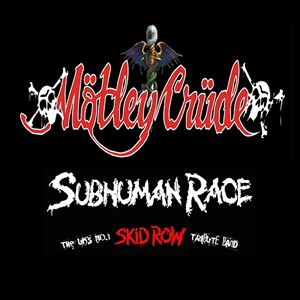 This event is for over 14s only - No refunds will be issued for under 14s.
More information about Motley Crue + Skid Row tributes tickets
8:40-10:00 Mötley Crüde
A special co-headline show in tribute to two of the biggest 80's hair metal bands, namely MOTLEY CRUE and SKID ROW
Mötley Crüde are a UK based tribute to the Lewd, Crüed & Tattooed rockers from the Los Angeles Sunset Strip! Originally started in late 2015, Mötley Crüde have quickly become recognised by Crüe fans as the band that you have to see if you want the authentic real deal visually and musically. The set list is comprised of songs from the bands first album Too Fast For Love (1981) to Saints Of Los Angeles (2008) and absolutely everything in-between!
Facebook @motleycrudegb
Instagram @motleycrudeuk
Subhuman Race are the ONLY Skid Rowtribute band in the UK. They sound and look exactly like the original Seb Bach line-up and play everything from Monkey Business to Youth Gone Wild. These guys hail from Manchester and the North West and are well worth watching if you want a nostalgic trip back to the late 80s and early 90s.
Facebook @SubhumanRaceUKtributr
Twitter @skidrowtribute