Splendour In Nottingham
Wollaton Park, Nottingham.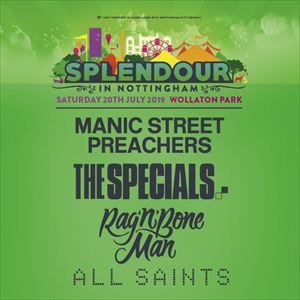 Under 16s must be accompanied by an adult. We cannot issue refunds to under 16s who are not accompanied by an adult.
More information about Splendour In Nottingham tickets
Children aged 10 and under go free and do not require a ticket. Children under 16 must be accompanied by an adult at all times.
Nottingham City resident discount tickets can be purchased from splendourfestival.com or in person from the Nottingham Tourism Centre. To claim Nottingham City resident discount, a copy of your council tax bill is required.

Manic Street Preachers and The Specials will headline this year's Splendour, Saturday 20 July 2019.

The two bands have an outstanding back catalogue with more than 20 combined UK top 10 hits, including 'If You Tolerate This Your Children Will Be Next' and 'The Masses Against The Classes' from Manic Street Preachers, and 'Too Much Too Young' and the legendary 'Ghost Town' from The Specials.

With lots happening all over the park aside from the three music stages, including comedy in the courtyard, a kids' area and entertainers out and about in the crowd, the festival is a fantastic day out for all the family.

Splendour Music Festival - T&C's

Tickets

This ticket is issued subject to the rules and regulations of the site owners, operators and management. It is a condition of purchase that Ticket holders accept and will abide by the Terms & Conditions. Failure to comply will result in refusal of entry or in ejection from the site.
Every person entering the event site must have a valid ticket in compliance with the event licensing.
Ticket holders are required to carefully check their tickets in advance of the event, mistakes cannot be rectified on the day.
Tickets are non refundable unless the event is cancelled. Booking fee and postage costs cannot be refunded.
No duplicate tickets allowed for lost or stolen tickets.
No tickets may be used in competitions, promotions or hospitality packages without the promoters consent; any ticket not complying with this will become void.
All advertised bills are subject to change, refunds will not be permitted in any such circumstances.

Admission

The event promoter reserves the right to refuse admission of the ticket holder.
Ticket holders enter the site at their own risk. Neither the promoter nor site management can be held liable for personal injury or damage to customer property.
Customers and their property may be subject to searches by security officials, refusal to comply may result in refused entry or ejection from the site.
The event promoter reserves the right to eject any person deemed to be putting themselves in danger or acting in an inappropriate manner towards other customers.

Prohibitions

No illegal substances or anything that could be deemed as an offensive weapon are to be bought on site. Refusal to comply will result in prosecution and ejection from the site
No Alcohol or glass bottles or cans to be brought on site.
Water and non-alcoholic drinks in maximum 1litre plastic bottles with unbroken seals are permitted. Soft Drink Cans are not permitted.
No pets permitted onto the site, with the exception of special assistance animals.
No cycling/cycles allowed on site
No crowd surfing or moshing permitted.
No camping is permitted within the site or park.
No fires or BBQ's permitted within the site or park
No gazebos, pop up tents, fisherman's umbrellas or other items deemed to cause an obstruction are allowed on site.
Chairs, blankets are allowed at the discretion of the organisers but may be requested to be removed by the organisers if space is limited.
No chairs, blankets, large cool boxes, pushchairs or similar items are allowed between the mixing desk and stage.
Unauthorised use of photography or recording equipment is prohibited; audio and audiovisual equipment will be confiscated if brought onto the site.
All children under 16 years old must be accompanied by an adult at all times.
No trading without prior consent of the event organisers.

Information

Warning - Prolonged exposure to loud noise can damage your hearing.
Strobe lighting maybe used during the Festival.
By attending this event, you give your express consent to be included within any film, photograph, audio and/or audiovisual recording to be in all media for any purpose at any time throughout the world.
Official merchandise will be sold by identified vendors on the event premises only.
Licensed bars and food vendors will be operating on site, please drink responsibly
Gate Opening Times: The gates to Wollaton Park will open at 9am.
Entry to the Festival site will be from 11.30 am.
Gate Closing Times: Festival gates will close at 11.30pm.
All Park gates will close at 12 midnight.

N B. The Site Owners, Operators and Management will not accept liability for any item which is not allowed to be brought onto site. Refuse disposal points will be available at the Entrance gate should ticket holders wish to dispose of such items or leave them behind.